Facebook fundraising for not for profits
Facebook launched its fundraising toolkit in Australia in 2018. Many charities across Australia were really excited about it, mainly because most people who use Facebook use it so they can connect with the people they care about and to support the causes or ideas they care about. And 1.6 billion people are connected to a non-profit cause on Facebook – so from a fundraising perspective it gives charities the chance to raise more funds – so a no brainer.
There are lots of other positives when using Facebook to fundraise including:
The ability to reach your supporters where they come to connect.
You can trial different content in terms of the format and messaging to see what drives more engagement and giving. You can also use the analytics on your page to see what types of posts are generating more giving for your cause.
You can tap into your supporters' networks, extending your reach.
Free tools are built into the platform. People can give simply on Facebook without ever having to leave the site.
While it's exciting to see these tools appear on a social media platform that is so easily accessible by billions of people, there are a few things to consider when it comes to using the tools in Australia and considering it as another tool in your fundraising strategy toolbox.
PayPal Giving Fund
Facebook have partnered with PayPal in Australia (which is a bit different to how things work with other countries), so you'll need to apply to set up your fundraising account with the PayPal Giving Fund here.
Donate button
Not for profits can't currently set up a donate button on their Facebook page as you can in America – see example below. This step makes things easier for donors when they are in Facebook, rather than directing donors to your website (which could potentially be clunky), you can push donors directly to your Facebook donation form. The bonus of this feature is that you will probably see higher conversion rates than directing someone to your website.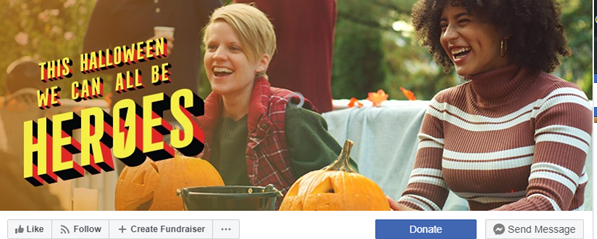 No donor details
All donations made through Facebook's fundraising tools get paid into the PayPal Giving Fund. Receipts for donations are issued by the PayPal Giving Fund, because they collect and distribute the donations.
The process for receiving a receipt can take up to 90 days.
Because the PayPal Giving Fund is a third-party intermediary, the charity doesn't receive any contact details about the donor. This is a major issue as there is no way a charity can thank a donor for their generous donation. There is also no way of building and nurturing a relationship with the donor.
Costs involved
If your fundraiser is for a charity, Facebook will cover all of the processing fees, which means 100 per cent of the monies raised will go directly to the charity, which is pretty awesome.
Personal fundraisers are however subject to fees, which incorporate both payment processing and, in some cases, special taxes.
In Australia, the fees for personal fundraisers is 1.77 per cent plus $0-.33 per donation.
Instagram sticker feature
The Instagram sticker feature is only available to use in America at this stage. Facebook hasn't released any information about when it plans to release this in Australia.
No notifications
There is no way of knowing when one of your amazing supporters has created a new fundraising page. You will need to monitor your page and fundraisers manually to see who's doing what.
No customer service
As with all free social media platforms, there's no customer service hotline, so if something does go wrong it's going to be difficult to get it sorted out. As a charity in the UK discovered when a donor accidently donated GBP1,000 instead of GBP100. The donor was anxious to change the donation amount and contacted the charity directly. However, the charity had no way of contacting Facebook to make the change. The issue was eventually resolved, but it took a long time and it wasn't easy to resolve as there was no customer service team available.
Today donors can get a refund by contacting Facebook directly, to find out more view the apply for a refund link here.
Peer-to-peer fundraising
The Facebook fundraising tools are however perfect for peer-to-peer fundraising in Australia. Donors can donate three main ways:
Create a birthday fundraiser
For example Gordon Ramsay ran a birthday fundraiser for Great Ormond Street Hospital for Children, raising over $33k.
How to:
Select the not-for-profit you would like to raise money for.
Select the amount of money you would like to raise, overall.
Select the date you want your fundraiser to end and add a title and description for your fundraiser.
Add a donation button to posts
The donate button is a quick way for people to donate to support their not for profit, without leaving Facebook. Donors can add the button to their posts, making it easy for supporters to contribute, in just a few clicks.
How to:
Click What's on your mind? on your News Feed or timeline and then
Click the '…' button and scroll down to select 'Support non-profit'.
Search for and select from the list of charities to support.
Add some wording to your post about why you are supporting the charity.
Tag your charity so they can personally thank you, then click 'Share'.
Create a fundraising page
This is similar to a birthday fundraiser, however, this page can be created for personal reasons.
How to:
Click Fundraisers in the left menu of your News Feed.
Click Raise Money then 'Charity'.
Search for and select your charity.
Fill in the fundraiser details and choose a cover photo.
Click create.
Before using the Facebook fundraising toolkit think about what you want to achieve by using it. If you want to increase your peer-to-peer fundraising, it's ideal for this. It's also worthwhile signing up and having a PayPal account, as you will receive one-off payments from generous donors from time to time, this strategy has proved really successful for many charities.
However, if you are looking at building long-term relationships with your donors, Facebook is probably not the best platform to be using.